Slim Stuff Sack
Lead Time Ships in 2 to 3 Weeks
This slim size stuff sack will fit a few clothing items, a large tarp, or large inflatable sleeping pad. The slim shape can squeeze into your pack's external pockets to free up space, or it may fit well inside a day pack or fast pack.
Need a different size?  Check out the rest of our Stuff Sack collection.
Constructed from .55 oz/sqyd Dyneema® Composite Fabric. All colors are semi-transparent so you can easily see your items.




The side seam is taped for strength but these should only be considered water resistant due to the draw cord opening.




Stuff sacks can easily be patched with Dyneema® Composite Fabric Tape.




Also check out our Dry Bags for a slightly heavier, but more abrasion and water resistant way to protect your critical items from the elements.




All Zpacks gear has a two year limited warranty against defects in materials or workmanship. Please see our return / warranty policy.




Made in the USA.
Full / Closed Dimensions:
5" diameter by 12.5" tall (13 cm x 32 cm) / 245 cubic inches (4L)
.55 oz/sqyd Standard Dyneema® Composite Fabric

Dyneema® Composite Fabric is composed of high strength Dyneema® fiber laminated inside a polyester membrane. It is inherently waterproof and does not require any coatings or DWR treatment. Dyneema® Composite Fabric has very high tensile strength for its weight and does not stretch.



.55 oz/sqyd Dyneema® Composite Fabric is our lightest weight version. It has high tensile strength, but only moderate abrasion and puncture resistance due to the thin membrane material. All colors are light and semi see-through.


Tensile Strength: 63 lb/in (552 N/5cm)

Puncture Strength: 1.8 lb (8 N)

Water Resistance: 15,000 mmH₂O

Made in the USA.



Customer Reviews
Write a Review
Ask a Question
Filter Reviews:
tent
duplex
three
pack
third
size
stuff
jackets
wear
person tent
03/19/2020
Home p.
United States
Z packs rocks!
Great to fit a tarp into
11/20/2019
David G.
United States
Great products
I now have four blue DCF ZP's stuff sacks. Three in the narrow. Use them for my gravel riding. Food in one, rolled up raincoat in another, misc closes in yet the third. Fourth is the Med size, use it for larger jackets etc. Like DCF as you can see into the stuff sacks to know what's in there. good quality build from ZP.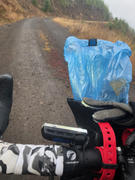 10/25/2019
peter
Australia
perfect duplex tent bag
If you fold your duplex, then roll up around your peg bag the duplex fits perfectly into this stuff sack and takes up allot less space because it tends to expand to fill whatever bag its put in. Here it is next to my size 12's
10/13/2019
Adrian G.
United States
Light, easy fit for my tent
An easy fit for my tent and rainfly. I have a Nemo Hornet 1 person tent. I camp mostly on granite and day hike out from my base camp, so I need a semi-freestanding tent. A trekking pole tent won't work for me. But Nemo's stuff bags are a little heavy. The Hornet goes in to this bag easily, without aggressive stuffing, giving a soft bag that can conform to the space available in my pack.
perfectly sized for the duplex
Perfectly sized for the Duplex. I approximately fold the duplex half and half again etc and then , when it's folded to bag length, fold in half other direction and then roll around the pegs bag, towards the last fold. This ensures that the tent takes up minimum space. with minimum wear and tear. It is actually easier and faster to do it this way than stuffing it into its bag. If you fold and roll the bag for the duplex, then the bag that comes with it is very much on the large size and the tent expands and takes up much more room. When folded and rolled it slides easily into the thinner bag, which holds it small and tight. I suspect it might have been the intended bag but tent stuffers complained that it was too small?.