Easy measurement lines are imprinted in the side of the pot.


Pour spout groove


Insulated folding handle with heat resistant silicone grips.


The .6L, .9L and 1.3L sizes all nest perfectly one inside the next, if you need more than one.


Besides being extremely light, titanium does not rust or wear easily.


These are not the non-stick version, which means they are lighter and you don't need to worry about scratching them up or wearing out the lining.


An Evernew mesh stuff sack is included, and adds about .56 ounces (16 grams).


Consider adding a Zpacks Dyneema Composite Fabric stuff sack. Our Dyneema Composite Fabric stuff sacks are just .14 ounces (4 grams), plus they are waterproof so any soot or sticky residue from your fuel or campfire doesn't get all over your gear.


Looking for a different size pot? Check out our other sizes.


Made in Japan.
400ml
Model: 400FD

Volume: 400 ml (1.7 cups)

Outer Dimensions: 4" wide x 2.4" tall (10.2 cm x 6 cm)

Inside Diameter ~3.7" (9.4 cm)

Mug Weight: 1.7 oz (48 g)

570ml
Model: 570FD

Volume: 570 ml (2.4 cups)

Outer Dimensions: 4.75" wide x 2.5" tall (12 cm x 6.4 cm)

Inside Diameter ~4.3" (10.9 cm)

Mug Weight: 1.9 oz (54 g)

.6L
Model: ECA251
Dimensions: 5.3" wide x 2.6" tall (13.5 cm x 6.6 cm


Volume: .6 Liters / 2.54 cups


Pot Weight: 2.4 ounces (68 grams)


Lid Weight: .88 ounces (25 grams)


Total Pot Weight: 3.3 ounces (93 grams)
.9L
Model: ECA252


Dimensions: 5.6" wide x 3" tall (13.5 cm x 7.6 cm)


Volume: .9 Liters / 3.8 cups


Pot Weight: 2.84 ounces (81 grams)


Lid Weight: 1.22 ounces (35 grams)


Total Pot Weight: 4.06 ounces (116 grams)

1.3L
Model: ECA253


Dimensions: 6.25" wide x 3.5" tall (15.9 cm x 8.9 cm)


Volume: 1.3 Liters / 5.5 cups


Pot Weight: 3.39 oz (96 g)


Lid Weight: 1.22 oz (35 g)


Total Pot Weight: 4.6 oz (131 g)

Customer Reviews
Write a Review
Ask a Question
Filter Reviews:
soloist
bundle
meal bags
lids
540mL
pots
fuel canister
Toaks
item
section hike
12/13/2020
harvey B.

United States
love my titanium
i got a medium/large cook pot and coffee mug. both items worked well. water boils really quickly making fixing bag meals a snap. overall rating: 10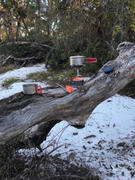 12/02/2020
Robert F.

United States
Ever new pot
Great as advertized. Lightweight but sturdy. Used it on a recent WV camp trip. Will use this and a pocket rocket on my AT section hike next year.
10/09/2020
Chris S.

United States
400 mL Evernew Titanium Mug
While the picture actually shows the 540mL mug, I did receive the correct item. Zpacks was actually the only website that I could find this item at the time I purchased it. I bought it specifically for my Trail Designs Sidewinder Ti-Tri bundle (https://www.traildesigns.com/products/evernew-400ml-cup-sidewinder-ti-tri-bundle). The kit is absolutely perfect for those only intending to boil 1.5 cups of water to rehydrate meal bags. If that was truly the only thing you were intending to eat on trail, I couldn't imagine an ultralight soloist needing anything else. The cup is well built and large enough to partially nest a 4oz fuel canister, a BRS 3000T stove, and a mini-bic lighter. It's tragic that it does not come with a lid, BUT I found that the Toaks lids for their 95mm pots (ie. 550, 650, 750mL) do sit perfectly on the lip. Thanks Zpacks!