Groundsheet Attachment Kit
Lead Time Ships in 2 to 3 Weeks
Keep your groundsheet from blowing away or shifting out of place by attaching it to your tarp.This kit allows you to attach our bathtub groundsheets to our Hexamid Pocket Tarp or any other tarp. This set includes 6 elastic loops, each with its own mitten hook and cord lock. Loop the elastic bands on to your groundsheet. Clip the mitten hooks to the loops at the corners of your tarp and cinch the cord lock to keep the lines tight.
*If your tarp does not have loops that can be used to attach the elastic, consider adding Stick on Loops.
Customer Reviews
Write a Review
Ask a Question
Filter Reviews:
gear
weight
ZPacks
trips
duplex
Quality
ounce
guys
pockets
five
09/19/2020
Colin P.
New Zealand
Ground sheet attachment kit
Super light and very easy to use, making camp set up nice and quick
07/17/2020
Keith J.
United States
I've bought so much five star Zpacks stuff I don't know which end is up or where to start.
Everything I've purchased from you guys has been five stars. What I notice is that Joe and you guys actually use the gear, so everything makes sense, and really works out in the wild places. From my Duplex to the Hex Solo to the UV umbrella, and various things like booties, and hood…it's all good. The only thing I've managed to find a fault with was the carbon peg…which split apart when I clobbered it with a rock pounding it in…pilot error surely. My latest thing is a custom zero I bought off a guy that was never used. Has every mod you can get so the weight is up to 10 ounce. Took it on a backpack this week and was impressed. Could definitely do four day trips with it. Again everything was where it should be…the pockets, the mesh pocket, it all works.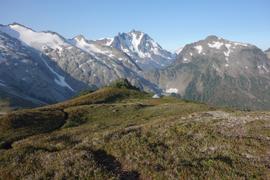 06/28/2020
John D.
United Kingdom
An effective connection
Anyone used to lanyards will find these easy to deploy. They work as promised.
11/02/2019
Robert G.
United States
Ground sheet attachment kit
Although I used these to make my own ground sheet for another brand of tent, they are perfect for their stated purpose. I tried to make my own attachment but securing the perfect material proved elusive. As usual with Zpacks, the perfect balance of minimal weight and highest quality.