Hexamid Solo Tent
Lead Time Ships Within a Week
Every company has an origin story and the Hexamid Solo Tent is part of ours.
Originally tested by Joe on his 2009 CDT thru-hike, this ultralight six sided pyramid style shelter protected him all the way from Canada to Mexico; withstanding blizzards in the San Juans, the exposure of the Wind River Range, and the solitude of the New Mexican desert.

It is a perfect tent for an average size solo hiker, having a fully enclosed screen, an optional detachable bathtub floor for versatility, and storm doors that provide 360° rain protection.

With a design that even predates ours days in the garage, this is the ultralight tent that helped define who we are.
The Hexamid Solo tent has a fully enclosed screen floor and walls, which keep 100% of insects, ticks, spiders etc out. A separate bathtub groundsheet, a bivy, or poncho groundsheet must be used on the inside of the tent on top of the screen to avoid ground water.

Sets up with just one trekking pole or walking stick adjusted to around 48 inches (122 cm), and a minimum of six stakes. Eight stakes are recommended. A Tent pole is available here if you don't use trekking poles.

Packs up tiny. The tent is a loose fit in an included 6" x 12" (15 x 30.5 cm) medium stuff sack.

Ultralight Lineloc V adjusters are sewn to all the tie outs. 2.0 mm bright yellow Z-line cord is cut and attached for you. Linelocs, cord, and the stuff sack are included in the weight.

Either of the storm doors can be opened or closed independently. Leave both open on nice weather nights for a breeze and great views. Close the upwind door to block cold wind, or close both for 360° rain protection. The overlapping doors are closed with a custom made metal hook.

Ample space for one person plus gear. The tent is long enough for most people to fully stretch out their arms and legs, and tall enough to sit upright. You may need to shift your position to avoid rain spray depending on the wind direction.

The inside of each corner has a loop for clipping on your groundsheet. The peak also has a loop on the inside for hanging a flashlight or stuff sack.

Dyneema Composite Fabric is naturally waterproof and is not treated with any potentially harmful chemicals such as flame retardants or water repellents.

All Zpacks gear has a two year limited warranty against defects in materials or workmanship. Please see our return / warranty policy.

Made in the USA.
Weight:
The total weight displayed near the 'add to cart' button includes guy lines, sewn in linelocs, taped seams, and a stuff sack. A piece of repair tape is included with the tent. Your choice of canopy material will change the total weight.
The optional, detachable, Solo Bathtub Groundsheet with provided attachment kit adds an additional 3.2 ounces (91 grams) bringing the total weight to an enviable 14.3 ounces (405 grams).
*6x Stakes are required (8 recommended) but are not included. We have a variety of Ultralight Stakes to choose from.
Dimensions:
Peak height: 47" (119 cm)
Length: 107" (271.75 cm)
Width at center: 54 inches (137 cm)
Width at ends: 30 inches (76 cm)
Entryway Height: 29 inches (74 cm)
Vestibule Depth: About 12 inches (30 cm)
Our tents are made from Dyneema Composite Fabric. DCF has several advantages over other materials:

High strength to weight ratio – the material can handle high wind force and does not tear easily.

Chemical free, PFC free

Waterproof – there is no DWR or coating to worry about wearing out. The material will not absorb significant water that will add water weight to your pack

Stretch-free – the tent will stay taut all night. Nylon material by comparison can stretch and sag, especially if it gets wet.

Taped seams – our seams are sewn, then taped water tight. The tie outs have bonded reinforcements for high strength. No seam sealing will be necessary!

Easily repairable – Any damage can easily be fixed in the field with our Dyneema Composite Fabric Repair Tape.

This tent is semi-transparent. In bright sunlight, a fuzzy silhouette of a person sitting inside the tent would be visible, but you cannot see any details. It has a suitable amount of privacy for changing clothes.

In lower light (such as in the evening or at night), you cannot see through at all. Another nice thing about this material is that you can see the outlines of trees and your surroundings for a more immersed outdoor experience.
This tent has fully enclosed .67 oz/sqyd (22.7 g/m²) insect screen. The holes in this screen are super tiny, so even the smallest insects cannot get through. Our tent screen is about 30% lighter than comparable Noseeum screen with no noticeable decrease in durability.
The optional, detachable, Solo Bathtub Groundsheet is made from 1.0 oz/sqyd Dyneema Composite Fabric. This material weight is more than twice as thick as the canopy material and is more resistant to abrasion and punctures. It is also easy to patch with tape.
Lineloc V adjusters are sewn to all tie outs. Bright yellow Dyneema Z-Line cord is cut and attached for you. The yellow lines are very easy to see night or day, and Dyneema has very low stretch.
The expected life span of this shelter is at least one full 2500+ mile thru hike, or many years of casual use with some care.
Made with Bio-Based Dyneema® Fiber


Reduce your carbon footprint with DSM's bio-based Dyneema® fiber technology. Sourced from renewable, bio-based feedstock, it is the first ever bio-based ultra-high molecular weight polyethylene (HMPE) fiber. Commit to sustainability and help reduce our reliance on fossil fuel resources and rely on the trusted performance of the world's strongest fiber™. Click here to learn more about our sustainability initiatives.

Made in the USA.
.55 oz/sqyd Standard Dyneema® Composite Fabric


Available in Blue, Olive Drab, and White

The default canopy material choice on this tent is .55 oz/sqyd Dyneema® Composite Fabric. It has high tensile strength and can handle strong winds, storms, and all the typical conditions a tent will be in. All Dyneema® Composite Fabric material can easily be repaired in the field with the included repair tape if it were to get a puncture.

The material is semi-transparent, allowing you to see the silhouette of trees when looking out. In bright sunlight, you can see the fuzzy silhouette of a person when looking in, but it is opaque in low evening light.

Tensile Strength: 63 lb/in (552 N/5cm)

Puncture Strength: 1.8 lb (8 N)

Water Resistance: 15,000 mmH₂O

Made in the USA.
.75 oz/sqyd Dyneema® Composite Fabric

Available in Burnt Orange, Dirt, and Spruce Green

This canopy material has a higher Dyneema® thread count which gives it a higher tear strength. The standard material is already difficult to tear, so this weight is unnecessary. Many thru-hikers like this feature for added peace of mind. It is also a bit thicker and darker than the standard weight. It is less transparent and offers more privacy.


Tensile Strength: 104 lb/in (911 N/5cm)

Puncture Strength: 3.1 lb (14 N)

Water Resistance: 20,000 mmH₂O

Made in the USA.



---
1.0 oz/sqyd Dyneema® Composite Fabric

Our tent floor material is made with a membrane that is more than twice as thick as our canopy material. It is more puncture and abrasion resistant. This is the standard floor material on all of our tents.


Tensile Strength: 104 lb/in (911 N/5cm)

Puncture Strength: 3.5 lb (15.5 N)

Water Resistance: 20,000 mmH₂O

Made in the USA.
.67 oz/sqyd Ultralight Nano-Noseeum Insect Netting

Regular "No-see-um" bug netting weighs about 1 oz/sqyd. This ultralight version weighs roughly a third less without a noticeable difference in performance. It has extremely small holes which block even the smallest of insects including mosquitoes, noseeums, etc. Nothing gets through this screen.
Hexamid Solo Tent Instructions
Click here for a printable version.
Guy Lines:
All Hexamid Solo Tents come with the guy lines are cut and attached for you.

Front Center (1x) - 75 inches (190 cm)
*Note that the front center line on the Hexamid Solo Tent is 75" (190 cm) with a stake loop tied at 30" (76 cm). The short end of the cord is attached to door hooks.
Front and Back Corners (4x) - 32 inches (81 cm)
Back Center (1x) - 32 inches (81 cm)
Back Walls (2x) - 54 inches (137 cm)
Setup Instructions:
Adjust your trekking pole to around 48 inches (122 cm). If you expect your pole tips to sink into the ground, add a couple inches to compensate.


Stake out one of the front corners. There is a label on one front corner to make it easy to find.


Pull the other front corner guy line tight, then give it about 14 inches (36 cm) or so of slack and stake it out. The distance that you come back with the stake determines the peak height of the shelter.



Insert your trekking pole with the handle at the peak of the tarp. If you angle the pole just a little bit it will stay standing up easier during setup.


Stake out the front main guy line. The front corners of the tarp should be about 6-8 inches (15+ cm) or so off the ground.


Stake out the back center guy line.


Stake out the back corners, and back wall guy lines. The tarp should be about 6-8 inches (15+ cm) off the ground all the way around.


If you have trouble getting a good pitch try playing around with the following:
The distance apart of the two front corner stakes when you first lay out the tarp.


The length and angle of the trekking pole.


Seam Sealing:
All Zpacks shelters have taped seams and bonded tie outs! No seam sealing necessary.
Click here for full instructions on how to wash our Dyneema® Composite Fabric tents and tarps.
Customer Reviews
Write a Review
Ask a Question
Filter Reviews:
tent
rain
ground
bottom
conditions
door
pack
times
picture
three
09/29/2021
Klaus R.

Germany
Satisfied
Everything is like your offer. I will use it next year. Yours faitfully,Klaus Reisky.
09/19/2021
Steve K.

United States
Great for the advanced backpacker.
I've spent 26 nights in my Hexamid Solo Tent in a variety of conditions. It took a little bit of time and effort to learn the best way to pitch the tent and I've since come to appreciate how flexible the setup is if you take the time to understand it. There is a surprising amount of tunability to how high the skirt of the tent hovers above the ground. High winds and rain are times you might want to lower the whole tent down closer to the ground and can be accomplished by either shortening your treking pole or by additional lean angle of a fixed length pole (not so straight up and down and hence lower peak). One thing I've noticed is that in high winds the tent stake that is most likely to pull out during the night is the front stake. I had it happen once. It is the tent line that is taking the most load and I've made an easy modification where I can bolster that line with three stakes and the addition of the orange tent guy line shown in the picture. I love the fact that the tent packs down so small and in a variety of shapes depending on your preference. It is also very light. I have not found condensation to be much of an issue. One disappointment I've had is with the bathtub floor which I found really didn't work as well as I thought since I can't always guarantee that the the anchor lines will keep the sides of the bathtub up instead of allow things to droop and lay more naturally flat on the floor. This is especially true if you've decided to pitch the tent with the skirt lower to the ground (because maybe you wanted to reduce the amount of rain that would blow in around the bottom of the tent). Also, while the footprint of the tent is reasonably small the actual footprint if you include the stakes and guy lines is bigger than you might be used to with almost-free-standing tent alternatives. There were a couple of times that I tried to squeeze into an awkward site location and I had to get a little creative with the guy lines extending out from the perimeter. Also, you need to be aware that unzipping the door will allow the door (and its zipper) to drop to the ground and I always make a special effort to keep the zipper laying more inside the tent instead of laying in the dirt just outside the door. If that dirt is the dusty flour type of dirt it will get in the zipper teeth and make the mechanism bind a bit. This tent may not be the best for the beginner infrequent backpacker as it most appreciated by those that are willing to fiddle and learn and make regular use of the tunablity and light weight and flexible packability. The more I use this tent the more I learn the best way to properly use it and the more I like it.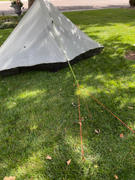 04/16/2021
Baker

United States
great ultralight tent
Really like this tent and have used it for about 7 years! Super light, very waterproof and windproof with good bug netting on the bottom. I use a emergency blanket underneath to help preserve the bottom netting. Easy to set up and comfortable inside with plenty of room for pack. --The only drawbacks are that it could be a few inches longer for hikers 6 foot+. With the inflatable pad and puffy sleeping bag, sometimes the bag touches the end of tent. (not sure if this is made in a extra long version) Also the front door could be a little longer, so as to come down closer to the ground to provide a little more coverage in windy or rainy conditions. (can't always predict wind direction for wind and rain prior to set up). Also when you are using it on uneven ground, the inside of tent can be a little droopy or low, etc) -I still highly recommend this tent because the benefits far outweigh the negatives.