20F Classic Sleeping Bag
Lead Time Ships in 4-5 Weeks
When the temperatures drop, stay warm and cozy with our award-winning Classic Sleeping Bag. Striking the perfect balance of warmth and weight,​ our ultralight Classic Sleeping Bag features a 3/4th length zipper on the bottom, combining the best aspects of a down quilt and a down sleeping bag, all at an unbeatable weight!
Includes a Free Zpacks Roll Top Dry Bag for Storage! A $30 value!
You can also get a similar bag as a zipper-less Solo Quilt​, or as a Full-Zip​ version that includes a draft tube.
Constructed with DownTek water-resistant 950 fill power goose down which stays dry 90% longer than untreated down. It has C6 water repellent with no PFOA or PFOS. Our down is responsibly sourced and is 'Responsible Down Standard' Certified.
Each compartment is overstuffed with 30% more 950 Fill Power Premium Goose Down than is necessary for maximum loft to account for any future down compression.
Vertical baffles on the upper body keep down from migrating to the sides. Tightly spaced compartments help keep the down evenly distributed so there are no cold spots. There are no "sewn through" seams.
Our rectangular foot box is roomy, and fits the shape of your feet comfortably when lying on your side, on your stomach, or on your back with your feet angled out in a relaxed position.
Black fabric on the inside for quick drying. Both the liner and the shell are treated with C6 durable water repellent to resist rain spray and body moisture.
3/4 Length Zipper extends to your calves. The zipper is positioned on the bottom of the bag allowing for multiple sleep set ups.
The bag can easily be opened up for venting in "quilt mode". Most of the time you probably won't even use the zipper.
Since the zipper is underneath you no draft tube is necessary- that means less weight and much less chance of a frustrating zipper snag. Getting in and out is as easy as turning the zipper to the side, or just slide in or out the top of the bag.
A flat clip at the top of the zipper keeps the zipper securely closed. Or use the clip alone with the zipper opened for venting.
An Elastic cord can be cinched tight around your neck to keep out drafts, or pull the bag up around your ears. This bag does not have a hood- wear a warm hat, or a Goose Down Hood, or size up in length if you want to pull it up around your head.
A Roll Top Dry Bag is included, and adds ~.9 ounces (25.5 grams) to the listed weight. The dry bags are a comfortable fit and can be compressed smaller by squishing the contents and rolling the top down more.
All Zpacks gear has a two year limited warranty against defects in materials or workmanship. Please see our return / warranty policy.
A printable .pdf version is available here.

ISO Rating
While our sleeping bags and quilts have not been tested for their International Standard Organization (ISO) rating, we estimate based on feedback and use they are closest to the middle of the "Lower Limit" of the ISO ratings.
.59 oz/sqyd Ventum Ripstop Nylon


The inner and outer shells of our sleeping bags and quilts are made from super light, high quality, 7 denier Ventum ripstop nylon. It has a finished weight of just .59 oz/sqyd (20 g/m²).

Ventum nylon features a high quality "C6" durable water repellent (DWR). The fabric can shed light mist and rain spray but is not waterproof.

Ventum nylon cuts the wind while still allowing for excellent vapor transfer and breathability. It has a soft texture and is not sticky or plastic feeling like some other fabrics in this weight range.

Made in Japan.



---
DownTek 950 Fill Power Water Repellent Goose Down

DownTek 950 Fill power goose down has a "C6" water repellent which allows it to stay dry over 90% longer than untreated down. The water repellent is PFOA and PFOS free. It is 'Responsible Down Standard' certified, ensuring that the animals are treated humanely. Goose down is a byproduct of the goose meat industry.



A printable .pdf version is available here.

Click here for full instructions on how to wash our down sleeping bags and quilts.
Customer Reviews
Write a Review
Ask a Question
Filter Reviews:
design
ZPacks
sleeping bag
room
mountains
guys
foot box
degree bag
nights
10/21/2019
matt p.
United States
Exceeds Expectations
I've used this bag several times over the last couple of months. It was remarkably warm for the weight. I used it this fall in the Uinta mountains with temps hovering in the low 30s , and in the high desert with temps in the 20s and was super comfortable.
10/17/2019
Paul T.
United States
Classic sleeping bag
Great products. I'm active duty army and carry all my gear on my back. This bag got my pack 8lbs lighter. I wish u guys made a water proof biv bag for it. If u could that's another 2lbs I could lose. Love the sleeping bag.
10/17/2019
Craig R.
United Kingdom
Sleeping bag arrived with a hole in it
My experience with Zpacks has been very disappointing. My 20F Classic Sleeping Bag arrived with a hole in it straight out of the box. Zpack's solution was to send me a new one that I could only get access to if I paid Fedex ANOTHER $150 dollars of customs duty on top of the $150 I had already paid in customs duty on the first (faulty) sleeping bag. I refused to pay this and have been in limbo ever since. Currently have a new bag with a hole in it that I don't trust to use in the field not least because the feathers will come out! So no, I would not recommend Zpacks. Poor workmanship, poor quality control, and ultimately poor customer service for no coming up with a solution to the problem that is of their making.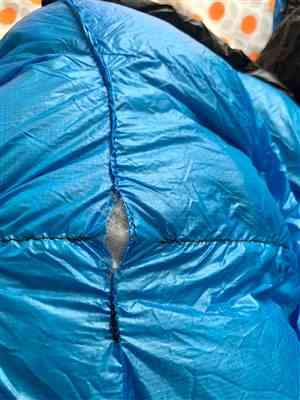 10/12/2019
Suzanne R.
United States
Warm and comfy
In love with this sleeping bag. So warm for its weight, and the design is much more comfortable than my traditional bag.
10/10/2019
Patricia P.
New Zealand
20F Classic Sleeping Bag
I haven't had a chance to use it in the mountains as yet but it's wonderfully light & warm & I'm looking forward to having a lighter pack this summer