Hexamid Pocket Tarp
Lead Time Ships in About 1 Week
For all you gram weenies cutting tags and planning FKT's, shave those last few grams off your base weight with the Hexamid Pocket Tarp ; our lightest shaped tarp ever!
This ultralight tarp can be your primary shelter on an ultra-minimalist adventure or can be tucked away in a pocket for a surprise afternoon thunderstorm.

Super simple by design, the Hexamid Pocket Tarp provides shelter at a weight that will keep your Lighterpack under that elusive sub-7 lb base weight.

There is also a version of this tarp available with Storm Doors for additional weather protection.
A Bathtub Ground Sheet can be purchased separately. Another option is to use a Tyvek groundsheet or a bivy under the tarp.
Sets up with just one trekking pole or walking stick adjusted to around 48 inches (122 cm), and a minimum of six stakes. Eight stakes are recommended. A Tent pole is available here if you don't use trekking poles.

Packs up tiny. The tarp is a loose fit in an included 2.5" x 4" x 5.5" tall (6.5 cm x 10 cm x 14 cm) mini stuff sack.

Ultralight Lineloc V adjusters are sewn to all the tie outs. 1.2 mm bright yellow Z-line cord is cut and attached for you. Linelocs, cord, and the stuff sack are included in the weight.

Ample space for one person plus gear. The tarp is long enough for most people to fully stretch out their arms and legs, and tall enough to sit upright. You may need to shift your position to avoid rain spray depending on the wind direction.

The inside of each corner has a loop for clipping on your groundsheet. The peak also has a loop on the inside for hanging a flashlight or stuff sack.

A Bathtub Ground Sheet is sold separately. Alternatively you can use a Poncho, or inexpensive material like Tyvek or Polycryo for your groundsheet.

Any condensation, which single wall shelters may experience, will run down the walls and out at the edges of the tarp, rather than onto the floor. Click here for tips to avoid condensation.

All Zpacks gear has a two year limited warranty against defects in materials or workmanship. Please see our return / warranty policy.

Made in the USA.
Weight:
The Hexamid Pocket Tarp weighs a total of 4.6 ounces (130 grams) including guy lines, sewn in linelocs, taped seams, and a stuff sack. A piece of repair tape is included with the tent.
*8x Stakes are required but are not included. We have a variety of Ultralight Stakes to choose from.
Dimensions:
Peak height: 47" (119 cm)
Length: 107" (271.75 cm)
Width at center: 54 inches (137 cm)
Width at ends: 30 inches (76 cm)
Entryway Height: 29 inches (74 cm)
Lineloc V adjusters are sewn to all tie outs. Bright yellow Dyneema® Z-Line cord is cut and attached for you. The yellow lines are very easy to see night or day, and Dyneema® has very low stretch.
Our tarps are made from Dyneema® Composite Fabric. Dyneema® Composite Fabric has several advantages over other materials:



High strength to weight ratio – the material can handle high wind force and does not tear easily.

Chemical free, PFC free

Waterproof – there is no DWR or coating to worry about wearing out. The material will not absorb significant water that will add water weight to your pack

Stretch-free – the tarp will stay taut all night. Nylon material by comparison can stretch and sag, especially if it gets wet.

Taped seams – our seams are sewn, then taped water tight. The tie outs have bonded reinforcements for high strength. No seam sealing will be necessary!

Easily repairable – Any damage can easily be fixed in the field with our Dyneema® Composite Fabric Repair Tape.
.55 oz/sqyd Standard Dyneema® Composite Fabric


.55 oz/sqyd Dyneema® Composite Fabric has high tensile strength and can handle strong winds, storms, and all the typical conditions a tarp will be in. All Dyneema® Composite Fabric material can easily be repaired in the field with included repair tape if it were to get a puncture.

The material is semi-transparent, allowing you to see the silhouette of trees when looking out. In bright sunlight, you can see the fuzzy silhouette of a person when looking in, but it is opaque in low evening light.


Tensile Strength: 63 lb/in (552 N/5cm)

Puncture Strength: 1.8 lb (8 N)

Water Resistance: 15,000 mmH₂O

Made in the USA.



Hexamid Pocket Tarp Instructions
Click here for a printable version.
Guy Lines:
All Hexamid Pocket Tarps come with the guy lines are cut and attached for you.

Front Center (1x) - 54" (137 cm)
*Note that if your pocket tarp is the version with doors, the front center line is 75" (190 cm) with a stake loop tied at 30" (76 cm). The short end of the cord is attached to door hooks.
Front and Back Corners (4x) - 32 inches (81 cm)
Back Center (1x) - 32 inches (81 cm)
Back Walls (2x) - 54 inches (137 cm)
Setup Instructions:
Adjust your trekking pole to around 48 inches (122 cm). If you expect your pole tips to sink into the ground, add a couple inches to compensate.


Stake out one of the front corners. There is a label on one front corner to make it easy to find.


Pull the other front corner guy line tight, then give it about 14 inches (36 cm) or so of slack and stake it out. The distance that you come back with the stake determines the peak height of the shelter.



Insert your trekking pole with the handle at the peak of the tarp. If you angle the pole just a little bit it will stay standing up easier during setup.


Stake out the front main guy line. The front corners of the tarp should be about 6-8 inches (15+ cm) or so off the ground.


Stake out the back center guy line.


Stake out the back corners, and back wall guy lines. The tarp should be about 6-8 inches (15+ cm) off the ground all the way around.


If you have trouble getting a good pitch try playing around with the following:
The distance apart of the two front corner stakes when you first lay out the tarp.


The length and angle of the trekking pole.


Seam Sealing:
All Zpacks shelters have taped seams and bonded tie outs! No seam sealing necessary.
Click here for full instructions on how to wash our Dyneema® Composite Fabric tents and tarps.
Customer Reviews
Write a Review
Ask a Question
Filter Reviews:
shelter
tarp
design
weight
rain
tents
pitch
protection
purchase
pocket tarp
06/28/2020
John D.
United Kingdom
Limited by lockdown
No overnights yet but 3 July will see me out in a wild pitch, legally sleeping in the Pocket Tarp. The tarp is easy to pitch. Some of the comments I have seen had me wondering about that. It made light work of the wind - 15mph or so breeze, but on top of sea cliffs so no shelter at all. One tab for connecting the groundsheet missing. Left front corner. Also, breeze gets under the groundsheet and lifts any bit not weighted. Corners don't form very well so it will be interesting to see if it keeps slugs at bay as effectively as my Oooktub. Rain promised for 3 July but wind direction forecasted as pretty constant so I'm looking forward to seeing how the tarp copes.
03/12/2020
Vance P.
United States
A minimalists dream
The hexamid pocket tarp is the perfect shelter for somebody who is trying to achieve a low baseweight. It's just enough protection from the elements while still achieving an extremely minimal design. I was worried about having to mess with setting up and attaching the guylines to the shelter but everything came out of the box ready to go, with all guylines and knots tied for me! When set up the tarp feels very sturdy and solid. Very happy with my purchase. If you're trying to go for that sub 7lb or even sub 6lb baseweight, I would highly recommend you consider this tarp. Very happy with my purchase.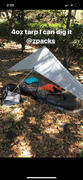 01/03/2020
Jacqueline R.
United States
Review
Great. Fast shipping. Happy w product.
MJ
11/09/2019
Michael J.
United States
Hexamid Pocket Tarp
I used this tarp for the first time on the PCT this year, with great skepticism due to the limited size. It rained for the first two weeks in the WA Cascades, during which, I stayed perfectly dry while others with large tents got wet. To my great misfortune, I left the tarp on the trail side in southern Oregon, and hence am replacing it because it was perfect in weight and function
11/05/2019
Scott S.
United States
Hexamid pocket tarp
There is a reason that this is the through hiker's ultralight shelter of choice. It is exactly as advertised- super light, super tough and super easy to pitch. This will not be my last Zpacks purchase.