10F Classic Sleeping Bag
Lead Time Ships in 1 to 3 Days
When the temperatures drop, stay warm and cozy with our award-winning Classic Sleeping Bag. Striking the perfect balance of warmth and weight,​ our ultralight Classic Sleeping Bag features a 3/4th length zipper on the bottom, combining the best aspects of a down quilt and a down sleeping bag, all at an unbeatable weight!
Includes a Free Zpacks Roll Top Dry Bag for Storage! A $30 value!
You can also get a similar bag as a zipper-less Solo Quilt​, or as a Full-Zip​ version that includes a draft tube.
Constructed with DownTek water-resistant 950 fill power goose down which stays dry 90% longer than untreated down. It has C6 water repellent with no PFOA or PFOS. Our down is responsibly sourced and is 'Responsible Down Standard' Certified.
Each compartment is overstuffed with 30% more 950 Fill Power Premium Goose Down than is necessary for maximum loft to account for any future down compression.
Vertical baffles on the upper body keep down from migrating to the sides. Tightly spaced compartments help keep the down evenly distributed so there are no cold spots. There are no "sewn through" seams.
Our rectangular foot box is roomy, and fits the shape of your feet comfortably when lying on your side, on your stomach, or on your back with your feet angled out in a relaxed position.
Black fabric on the inside for quick drying. Both the liner and the shell are treated with C6 durable water repellent to resist rain spray and body moisture.
3/4 Length Zipper extends to your calves. The zipper is positioned on the bottom of the bag allowing for multiple sleep set ups.
The bag can easily be opened up for venting in "quilt mode". Most of the time you probably won't even use the zipper.
Since the zipper is underneath you no draft tube is necessary- that means less weight and much less chance of a frustrating zipper snag. Getting in and out is as easy as turning the zipper to the side, or just slide in or out the top of the bag.
A flat clip at the top of the zipper keeps the zipper securely closed. Or use the clip alone with the zipper opened for venting.
An Elastic cord can be cinched tight around your neck to keep out drafts, or pull the bag up around your ears. This bag does not have a hood- wear a warm hat, or a Goose Down Hood, or size up in length if you want to pull it up around your head.
A Roll Top Dry Bag is included, and adds ~.9 ounces (25.5 grams) to the listed weight. The dry bags are a comfortable fit and can be compressed smaller by squishing the contents and rolling the top down more.
All Zpacks gear has a two year limited warranty against defects in materials or workmanship. Please see our return / warranty policy.
A printable .pdf version is available here.

.59 oz/sqyd Ventum Ripstop Nylon


The inner and outer shells of our sleeping bags and quilts are made from super light, high quality, 7 denier Ventum ripstop nylon. It has a finished weight of just .59 oz/sqyd (20 g/m²).

Ventum nylon features a high quality "C6" durable water repellent (DWR). The fabric can shed light mist and rain spray but is not waterproof.

Ventum nylon cuts the wind while still allowing for excellent vapor transfer and breathability. It has a soft texture and is not sticky or plastic feeling like some other fabrics in this weight range.

Made in Japan.



---
DownTek 950 Fill Power Water Repellent Goose Down

DownTek 950 Fill power goose down has a "C6" water repellent which allows it to stay dry over 90% longer than untreated down. The water repellent is PFOA and PFOS free. It is 'Responsible Down Standard' certified, ensuring that the animals are treated humanely. Goose down is a byproduct of the goose meat industry.



A printable .pdf version is available here.

Storage
Store loose (hanging in a closet for example) when not in use. Each bag has a hang loop at the foot. Alternatively it can be stored loose in a laundry bag.
Washing
Sleeping bags do not need to be washed very often. Wash once after a long season or only as needed.
Be careful of machine washing down sleeping bags. The twisting motion of a washing machine could potentially tear the shell or the internal baffles. If you do try a washing machine do so at your own risk using the delicate setting.
We recommend hand washing your sleeping bag in a bathtub with warm water and Granger's Down wash. Keep the sleeping bag in the dry bag and remove it while it is underwater so that it doesn't fill up with air. Swish the bag around for a few minutes. Drain the tub then give it another good rinse in fresh water.
Squish the sleeping bag back into the dry bag and squeeze as much water as you can out of it.
For best results, lay the sleeping bag out in the sun to dry. If the sleeping bag has a darker shell material (for example black on the inside) face the black side up to absorb more heat from the sun. You will have to periodically pull apart any wet down clumps. It may take all day to completely dry a sleeping bag, but don't worry, eventually all the clumps will be broken apart and dry and it will fluff back up better than new.
Some people use a clothes dryer with tennis balls to help break the down clumps apart, but do so at your own risk. High heat can melt delicate shell materials. Even with a dryer it can take a very long time to dry a sleeping bag. We recommend drying your down gear items in the sun, or line drying indoors if outside weather doesn't permit sun drying.
Customer Reviews
Filter Reviews:
rain
gear
design
sleeping bag
temps
zipper
fact
day trip
08/24/2019
john w.
United States
Deserves 5 stars
I just returned from a 4 day trip in the Rockies with lows only in the 30's and no rain. I was warm and cozy with no need to zip the bag. The wide bag really helped with my back pain issues which are aggravated by not being able to shift position often, which occurs in a narrow bag. And, most importantly, it lightened my pack. This bag is a 5 and I am glad I waited for it. I saw one feather leak in 4 days, the dark color soaks up the sun's heat and holds it, and I am confident the bag will work well this fall near the rated temperature.
08/06/2019
Anders F.
Sweden
Cant tell since you lied about the shipment company
Cant say since you al of a sudden changed shipping company for this order. So instead if 3-6 days with fedex we now are talking a minimun of 14 working days most likely. Great work. So i have no clue how this produkt work and wont be able to try this year since we arent gonna be able to go on the hikking trip since you lied about the shipping company. So its probably a nice sleeping bag but who knows maybe you can try it and tell me since you ruined our trip bigtime.
07/30/2019
Jack S.
United States
Love the shape
I thought I had a light sleeping bag before, but I dropped a pound and increased the temperature comfort rating with this one. I really like the shape and design of this bag and it fits well with my ultralight system. We just took it on a 40 mile 20,000 vertical 5 day trip in the Oregon Eagle Cap Wilderness and it met my every expectation. I like the fact that I can bring my knee up without too much restriction. We didn't get below mid 40s at night so can't speak to the temperature ratings yet.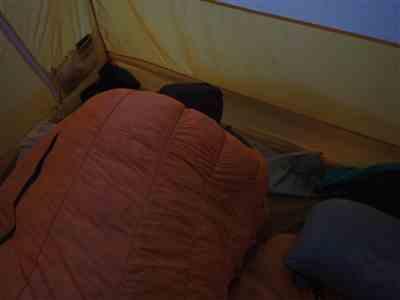 Best bag ever
I love outdoor gear, and I think this bag is my very favorite piece of gear. After using it a couple times I purchased a bag for my wife and my two boys. I've recommended it to all my friends, who also now love their zpacks bags. I special ordered mine as a 0 degree, as it only adds 2 oz. I live in Alaska, so cold temps are normal, and when it gets really cold I wear my down puff pants and puff coat to bed. I personally really like the fact that the zipper is really small, so that you don't know (and don't care) if you are sleeping on it. I also like the fact that it doesn't have a hood on the top of the bag, as it is much lighter without one, and then you can roll around and not care which side is 'up'. This bag is by far the lightest, warmest and best priced bag on the market.
01/22/2018
Jake F.
California, USA
Just wanted to say thanks for a solid product!!!!!
"Just wanted to say thanks for a solid product!!!!! Ordered a 10 degree bag from you for my 2017 PCT thruhike...... and it is my new fav piece of gear, never got cold at all.... even had some nights in the low 20s..... thanks again and keep up the good work!!!"