Arc Haul Zip 64L Backpack
Lead Time Ships in 1 to 2 Weeks
Quickly access your bear bag or easily stow your camera gear on remote multi-day hikes with the zippered front loading panel on the ultralight Arc Haul Zip backpack.
Comfortably transfer your pack's weight to your hips with our patented 'Arc Frame' system.  The frame also creates a gap between your back and the pack allowing for air flow that helps keeps you cool.

Featuring adjustable shoulder straps, an interchangeable belt, and a variety of optional modular add-ons, the award-winning and durable Arc Haul Zip will allow you to tackle those long days on the trail with a durable ultralight backpack designed to fit you.
Used by Deux Pas Vers l'Autre on their two year thru-hike across Europe.
Constructed from 4.85 oz/sqyd Gridstop Fabric.


The pack body is accessed through a large zipper opening on the face of the backpack. The zipper is a #5 waterproof zipper. The top of the pack also has a Roll-Top closure (like our dry bags) which keeps water out, and lets you roll down the top as your gear load shrinks. All seams and attachment points are taped, making the pack highly water resistant. We still suggest using dry bags for your important items like your sleeping bag.


Two internal horizontal compression straps take stress off of the zipper entry.


Comfy 3/8" thick by 2.5" wide padded contoured shoulder straps and padded belt. Both the straps and the belt have a daisy chain for clipping on items, and an adjustable position sternum strap is also included. The belt and shoulder straps have 3D mesh on the underside. This gives them a little bit more cushion, and the belt also has more texture for better grip.


Side pockets are sized to fit 1 or 1.5 liter bottles. They are positioned low on the pack and slanted forward for easy access without removing the pack. The pockets have drainage holes at the bottom, and elastic that keeps them tight at the top.


The large center pocket is made with solid material and has a waterproof zipper opening. It can swallow two ultralight tents, or other similarly sized gear with room to spare.


Side compression straps are made from non-stretchy cord for squishing down the pack volume. They also allow you to stand tall items like trekking poles in the side pockets.


A top strap, and base straps allow you to lash on extra items to the top or base of the pack. The straps come off if you don't need them.


A centrally located Hydration Port is included to string out a drinking tube over either the left or right shoulder. It is just above/between the shoulder straps and it has a triangular cover to keep out water. A water bladder can either be hung from an internal hang loop or laid horizontally on top of your gear.


The pack size has enough space for 5-6 days of food and ultralight gear. The pack can be compressed down with the roll top and side compression straps for short trips or use the top strap and base straps to lash extra stuff to the outside for long carries.


All standard Bear Canisters, including the Bearikade Expedition and the BearVault 500 will fit in the upper half of this pack standing on end. There is enough extra girth to either wrap a foam pad around the canister (if you use one) or stand a medium stuff sack vertically beside the bear canister.


The short and medium size frames will fit into an airplane overhead bin with the top rolled down to the frame. The tall size frame may not fit unless you pop the vertical frame bars out of the pack.


Our Flexed Arc Frame is is covered by US Patent No. 9,060,590


Our torso height adjustment mechanism is is covered by US Patent No. 9,848,687
All Zpacks gear has a two year limited warranty against defects in materials or workmanship. Please see our return / warranty policy.


Made in the USA.
Our ultralight Flexed Arc frame keeps the pack stiff so that most weight is carried on the hips instead of the shoulders. The frame pieces and mesh back panel can be easily removed or replaced.


The frame is curved to allow air flow and keep your back cushioned from the pack's contents. You can adjust the curve by tensioning the mesh back panel. The recommended arch is about 2.5" (6 cm).


The belt is attached directly to the bottom of the pack frame for the best load transfer.
The belt is removable and interchangeable. If you lose weight or need to share the pack between people the belt can be swapped out. Watch the belt removal video.


The shoulder straps and load lifter straps are attached directly to the frame. Load lifters straps come standard on this pack.


The shoulder straps can move up or down to adjust the torso height to a perfect fit using our patented torso adjustment mechanism. It works like a conveyor belt. This is great for sharing the pack between people, for growing teenagers, or for resale.


The belt provides a full wrap around your back. No need for additional lumbar support.


The belt is done with "V Style" webbing so that the top and bottom circumference can be adjusted independently. This helps wrap your hips much more securely, and prevents the belt from sliding down.


Collectively these features provide the additional load transfer necessary for loads up to around 40 lbs (18 kg).
Body dimensions: 8" x 12.5" x 30" (20 cm x 31.8 cm x 76 cm)
Volume: 64L (49L main body, 2.5L each side pocket, 10L center pocket)
Frame Height: Short 19" (48.3 cm), Medium 21.5" (54.6 cm), Tall 24" (61 cm)
4.85 oz/sqyd Gridstop Fabric



This popular backpack material is a little stronger against abrasion. It has a grid of white High Density Polyethylene (HDPE) threads for exceptional tear strength, as well as a diagonal woven ripstop. The fabric has a waterproof urethane coating on the inside. This high quality fabric has a finished weight including the waterproof coating is 4.85 oz/sqyd (165 g/m²).

Weight: 4.85 oz/sqyd (165 g/m²)

Water Resistance: >20,000 mmH₂O

Made in Japan.



---
.3.5 oz/sqyd Mesh

This is the mesh that we use on our backpack's center pockets. It has a relatively light weight for mesh, while being difficult to tear. It can withstand getting caught on branches and other typical abrasion that backpacks are subjected to. The hole size is a about 4 mm (a little over 1/8").


Weight: 3.5 oz/sqyd (119 g/m²)






---
5.3 oz/sqyd 3D Spacer Mesh

This mesh has a three dimensional structure which allows airflow and adds cushioning. It has a tricot backing so you can't see clear through the holes. We use it on the underside of our backpack's shoulder straps and belts to absorb sweat, add cushion, and add grip. Our 3D mesh weighs less than most other types.


Weight: 5.3 oz/sqyd (180 g/m²)

Thickness: About 3/32" (2.5 mm)




Torso Height:
To measure your torso height, you will need the help of a friend and a string or cloth tape measure.
Most hikers wear their belt near the top of their hips, however, it isn't uncommon for hikers to position their belt higher or lower.
To ensure you lock in the perfect fit, we suggest putting a belt on over your clothes in the spot where you'd like to belt to ride. Start your measurement at the center of the belt where it meets your spine.
Lower your chin towards your chest. This will cause the C7 vertebrae to protrude at the base of your neck. The C7 vertebrae will mark the top of your torso height measurement.
Using the string or cloth tape measure, follow the curve of your spine up from the center of your belt to your C7 vertebrae. This measurement is your torso height.
Belt Size:
To measure your belt size, pull a string or cloth tape measure tight around the spot you'd like your belt to ride. Choose a belt with a minimum adjustment of a couple inches smaller than your actual waist measurement. This will leave room for you to tighten down the belt if you lose a little weight on trail.
The belts on our Arc Series packs are also removable and interchangeable. This will give you the ability to switch the belt out if your waist size changes.
The belt on this pack is removable and interchangeable. It can be swapped out.
Customer Reviews
Write a Review
Ask a Question
Filter Reviews:
pack
weight
gear
trip
design
water
Arc Haul Zip
hike
zipper
nothing
10/15/2020
Brett W.
United States
Great Backpack
Took it for a 7-day hike on the Ozark trail in MO. Super light, and very comfy once properly adjusted. Having a zipper what quite the luxury! Shipped on time.
07/07/2020
Gesa S.
United States
Very happy with my new backpack!
I went on my first overnight trip with my new Arc Haul Zip 64L Backpack and it worked out so well. I love that I was able to chose my torso size and not lose volume. For the next trip the only thing I'm adding is the strap so I can strap a large bear vault to the top for longer trips, a belt pouch to have snacks easy accessible plus a bottle holder so I can have a bottle of water strapped to my shoulder strap. Definitely a great purchase and good looking too:)
05/24/2020
Johnny R.
United States
Best Backpack
At 67 years old I have been on a long quest trying to find the "perfect" backpack. I was skeptical that a pack so light would be comfortable. I figured that the shoulder straps or waistbelt would be flimsy and uncomfortable. I needed something lighter and more comfortable. I was wrong this pack is really comfortable. Hauls all and more than I need to carry. Quality construction. Pricey it is but may be worth it. I would do it again.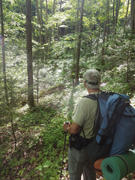 05/16/2020
helen m.
United States
Extremely Comfortable but Load Shifts
During my first outing with the Arc Haul Zip 64L it was filled with 15 pounds of base weight and another 8.6 pounds of consumables. The 23.6 pounds felt extremely comfortable... I'd say the best pack I've ever worn. Very little weight seemed to be in my shoulders. My only concern, which is shared by other using the Arc design, is that the metal supports that create the arc shape do not easily keep their shape. The left arc kept buckling into an odd "S" shape, causing the load to shift to that side. I'm already in the process of trying a self fix by adding an additional attachment point between the fabric and the piece of metal. Hopefully this will solve the problem because any more weight than the 26ish pounds will definitely need to stay in place during a long trek.
04/24/2020
Michelle
United States
First night out!
Very comfortable, lightweight, and well made pack!!!! I've had my eye on this pack ever since my old one started falling apart. It passed it's first test with an overnighter, carrying all the water I needed. It wasn't a heavy load...about 25 - 30 lbs max. I had approx. 20 miles round trip hike and the pack carries very well. Waist and shoulder pads have plenty of padding. I did decide to order the lumber pad and it works well. Will have to test the pack without it. I'll be doing a few more weekend trips, but I can't wait for my regular 6 night summer trip in late July!!